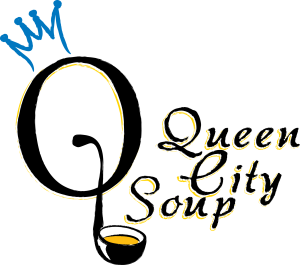 The Queen City Soup Second Chance Valentine's Soiree will be held
Sunday, February 23rd @ 6 p.m.
Hosted by the Frock Shop and Bistro La Bon.
Project Art Aid is excited to announce our latest project, the "Queen City Soup", micro-grant program to promote the arts in Charlotte.
We are hosting a series of community micro-grants for the arts modeled on others being held all over the country. Organizing casual community dinners to fund micro-grants for local causes is a proven low-cost idea that yields high impact results.
"Queen City Soup" will consist of a light meal at a local venue. Tickets will cost $10 per person (when purchased online, $15 at the door). During the event, guests will hear 5 local artists present a brief pitch about an arts project they would like to do to benefit the city of Charlotte.   At the end of the event the guests will vote for which creative project should win the money collected from the ticket sales. 100 guests provides a micro-grant of $1000, awarded on the spot to the winning artist. This artist will present their results to the guests at a subsequent "Queen City Soup" event.
Sounds like fun? We think so! Guests will get to eat, talk, and collaborate with fun and talented people whom we may not have otherwise met in an everyday setting. Plus, they get to see their money in action as one artist goes home with a micro-grant.
Queen City Soup is…
a collaborative situation
a social happening
a platform for connection
a theatrical environment
a democratic experiment in micro-funding
a relational hub bringing together various creative communities
a forum for critical but accessible discussion
an opportunity to support creative people in Charlotte!
Do you need a little funding to bring your idea to life? 
We are asking artists, musicians, educators, students, performers, activists, and any other interesting people to submit proposals for one micro-grant. If your proposal is chosen, we'll contact you and invite you to be a guest at the dinner where we fund your grant. (We do require you to be present so we can talk more about your project, share ideas, and just generally connect with you. It's fun!)
Currently, our grants are between $1500 and $2500 each.  What kind of projects are eligible?  Any creative project in the arts (art, music, writing, theater, dance, etc) that you're passionate about. The only other requirement is that it in some way impacts Charlotte (this is the Queen City Soup after all!).  This means that wherever else it occurs, grows, or is shared, it must also be shared in Charlotte.  (Example: If you create a puppet show with the grant, plan one of your performances for Charlotte.)
We are especially interested in projects that are accessible to a wide community audience, such as events that are free or low-cost to attendees, events that actively reach out to less-served populations, etc.
You can apply on-line here.  The deadline for proposals for the next event is March 2nd, 2013 (subject to change – please check the website.)